Every April, AAHP joins the U.S. Department of Health and Human Services Office of Minority Health (OMH) to celebrate National Minority Health Month. This year's theme is "Give Your Community a Boost!" Although rates are falling, COVID-19 is still in our midst, and we're encouraging Black/African American residents to get vaccinations and booster shots to help our community fight COVID-19. The Centers for Disease Control (CDC) continues to recommend COVID-19 immunizations along with physical distancing, wearing well-fitting masks, and avoiding crowded indoor areas and areas without proper ventilation.
As we raise awareness about the health disparities that affect Blacks/African Americans, we acknowledge the long history of racism in the healthcare system leading to today's mistrust of vaccines and boosters. But we must also face the reality that, according to the CDC, Blacks/African Americans are almost three times as likely to die from COVID-19 and about three times as likely to be hospitalized as White Americans. As seen on the chart below, unvaccinated residents have higher death rates than vaccinated and boosted residents. Immunization is one of the best tools we have to reduce the impact of this devastating virus.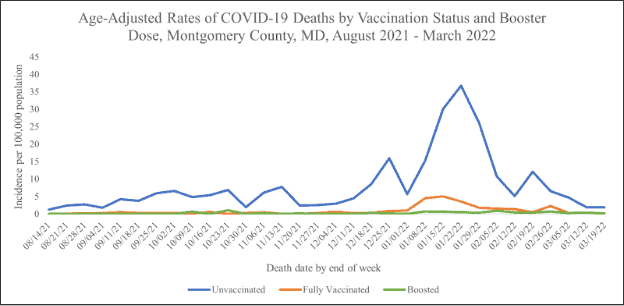 Minority Health Month presents new opportunities to encourage individuals to research and learn the facts about COVID-19 immunization and to increase their health literacy overall. To join AAHP and OMH in observing Minority Health Month, use the hashtag #BoostYourCommunity on social media when you educate your loved ones and neighbors about getting vaccinated and boosted against COVID-19.
Sources:
The Centers for Disease Control and Prevention
The National Institutes of Health
U.S. Department of Health and Human Services Office of Minority Health