While diabetes poses a critical health challenge to our community, it's a challenge we can overcome together. Proactive health management and community support are key to living a healthy, vibrant life despite diabetes. This Diabetes Awareness Month, we turn our focus to understanding how diabetes can impact different parts of the body as well as how it can affect mental health.
Your heart
Because high blood sugar levels damage the heart, people with diabetes are more likely to have heart disease or strokes. For African Americans, who already face a higher risk for hypertension, the added challenge of diabetes can lead to more severe complications like heart attacks and vascular diseases.
Your eyes
Diabetes can slowly harm your eyes and can even make you blind over time. The most common eye problem for working adults with diabetes is diabetic retinopathy, which occurs when elevated blood sugar levels harm the retina's blood vessels. Along with diabetic retinopathy, diabetics may also develop macular edema, cataracts, and glaucoma, all of which can lead to vision loss.
Your skin
Diabetes can lead to unique skin problems, particularly in African Americans, with conditions like diabetic dermopathy and acanthosis nigricans, which cause tan or brown patches on the body. These patches often show up in places like the neck, armpits, and other joints and are more common in those who are overweight.
Your mind
People with diabetes have a higher chance of feeling anxious than those without it, largely because handling diabetes every day can be really stressful. When these feelings get too heavy, they're called diabetes distress, and they can make someone want to give up on healthy habits or skip doctor visits.
Diabetes does not have to dictate the future of one's health. Proactive health management and community support are key to living a healthy, vibrant life despite diabetes. For Black/African American residents of Montgomery County, AAHP is here to guide you through the complexities of diabetes management. Learn more about AAHP's diabetes-focused programs here: https://aahpmontgomerycounty.org/diabetes-and-heart-health/
Get ready for an unforgettable event! The African American Health Program (AAHP) is thrilled to announce AAHP Community Day 2023, happening on Saturday, May 20, 2023, from 9am to 2pm at the Montgomery College, Germantown campus at the Bioscience Center on 20200 Observation Drive in Germantown, MD.
This year's event is packed with exciting activities for all ages! Join us for a walk, run, or bike activity that will kick off at 7:45 am. Afterward, get ready for an interactive discussion with youth, parents, and the community on security, change, and wellness. Participants can also attend workshops, enjoy physical activities such as Zumba and line dancing, and engage with a variety of exhibitors.
We are proud to have the support of our amazing sponsors, including Extra Mile, Venice Mundle-Harvey DBA Allstate Insurance, Montgomery College, MedStar Montgomery Medical Center, and Alpha Kappa Alpha Sorority, Inc., Xi Sigma Omega Chapter.
Don't miss out on this incredible opportunity to come together as a community and celebrate health and wellness. Mark your calendars for AAHP Community Day 2023! Register HERE.
View/download the flyer below and share: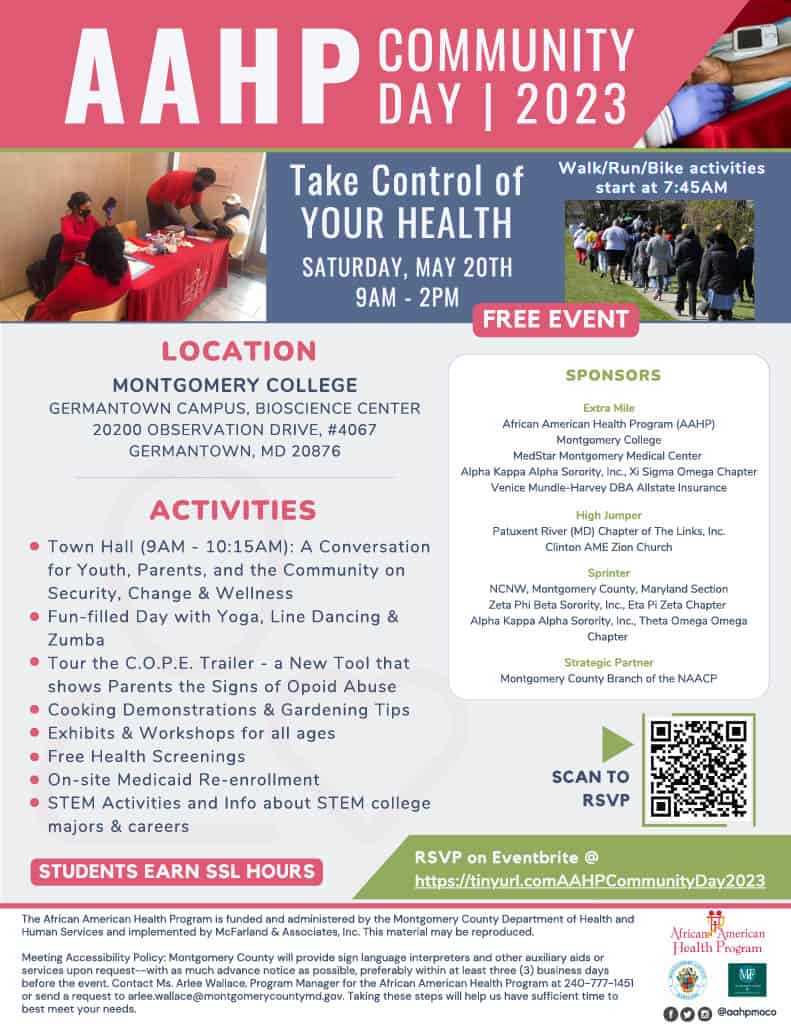 Whether you're looking to lose weight or just enjoy a balanced diet, National Nutrition Month is the perfect opportunity to take steps towards making smarter food choices.
Good nutrition helps to prevent and manage a wide range of diseases and conditions, such as obesity, diabetes, cardiovascular disease, stroke, cancer, and even mental health conditions. Good nutrition is vital for supporting the immune system and helps us prevent and recover from colds, the flu, and other infections. It can also improve our moods, energy levels, muscle strength and physical endurance. No matter your age, nourish your body with a healthy diet for optimal health and wellbeing.
Check out these tips to help you establish lasting habits that can lead to better health:
Plan ahead. By planning and prepping your meals ahead of time, you can control portion sizes and have healthy food to eat on-the-go.
Snack smart. Instead of giving in to cravings for unhealthy snacks like potato chips or packaged sweets, choose nutritious snack options like fresh fruit, trail mix, or air-popped popcorn.
Eat your colors. Aim for colorful variety of foods when planning meals. Eating a rainbow of fruits and vegetables is the best way to ensure you get the vitamins, minerals, and nutrients your body needs.
AAHP was excited to host a SOLD OUT event for National Black HIV/AIDS Awareness Day at the Sandy Spring Museum on Tuesday, February 7, 2023! This event brought together more than 50 attendees who were thrilled to take part in the thought-provoking discussions with health experts on self-care and prevention, self-advocacy, dispelling myths about who is at risk, and removing barriers to testing.
The event kicked off with a delightful welcome from David Machado, saxophonist extraordinaire, before leading into a heartfelt conversation facilitated by Dr. Nkossi Dambita, Director of Clinical Services at AAHP. The evening was made extra special by distinguished guests Dr. Kisha Davis (Montgomery County Health Officer), Dawn Luedtke (District 7 Councilmember), Dr. James Bridgers (Montgomery County Chief of Public Health Services) and Jade-Ann Rennie from Montgomery County Collaboration Council; and panelists Melvin Cauthen (Administrator from DHHS HIV/STI Programs) and Trina Scott (Senior Community Liaison from Gilead Sciences).
We thank our partner organizations African Affairs Advisory Group, African-American Advisory Group, Caribbean American Advisory Group, Montgomery County Collaboration Council, NAACP Montgomery County Branch, Patuxent River MD Chapter of The Links Incorporated and Silver Spring MD Chapter of The Links, Incorporated for their generous support in making this amazing event possible.
AAHP would like to express its sincere gratitude to the Montgomery County Collaboration Council for their generous sponsorship, to the Sandy Spring Museum for its hospitality, and to the Montgomery County School Safety Unit for providing a Traffic Safety Detail.
Ready to get real about HIV/AIDS in our community? Join AAHP on Tuesday, February 7 for a special event in observance of National Black HIV/AIDS Awareness Day. This unique event will take place at the Sandy Spring Museum from 5:30-7:30 and will feature open discussions with experts, healthcare workers, and people whose lives have been impacted by HIV/AIDS. We are excited to have Dr. Kisha Davis, the newly appointed Public Health Officer for Montgomery County, as our special guest. Join the discussion with experts, Melvin Cauthen, Administrator for HIV/STI Programs for the Department of Health & Human Services, and Trina Scott, Senior Community Liaison with Gilead Sciences. This informative and engaging event will be facilitated by Dr. Ikenna Myers, Program Manager for Clinical Services, African American Health Program. Enjoy smooth jazz played by saxophonist, David Machado. Light refreshments will also be served.

HIV testing will also be available. Space is filling up fast so RSVP today!
Our partners
African Affairs Advisory Group, African-American Advisory Group, Caribbean American Advisory Group, Montgomery County Collaboration Council, NAACP, Montgomery County Branch, Patuxent River (MD) Chapter of The Links, Incorporated, and Silver Spring (MD) Chapter of The Links, Incorporated
RSVP here.
Share this flyer!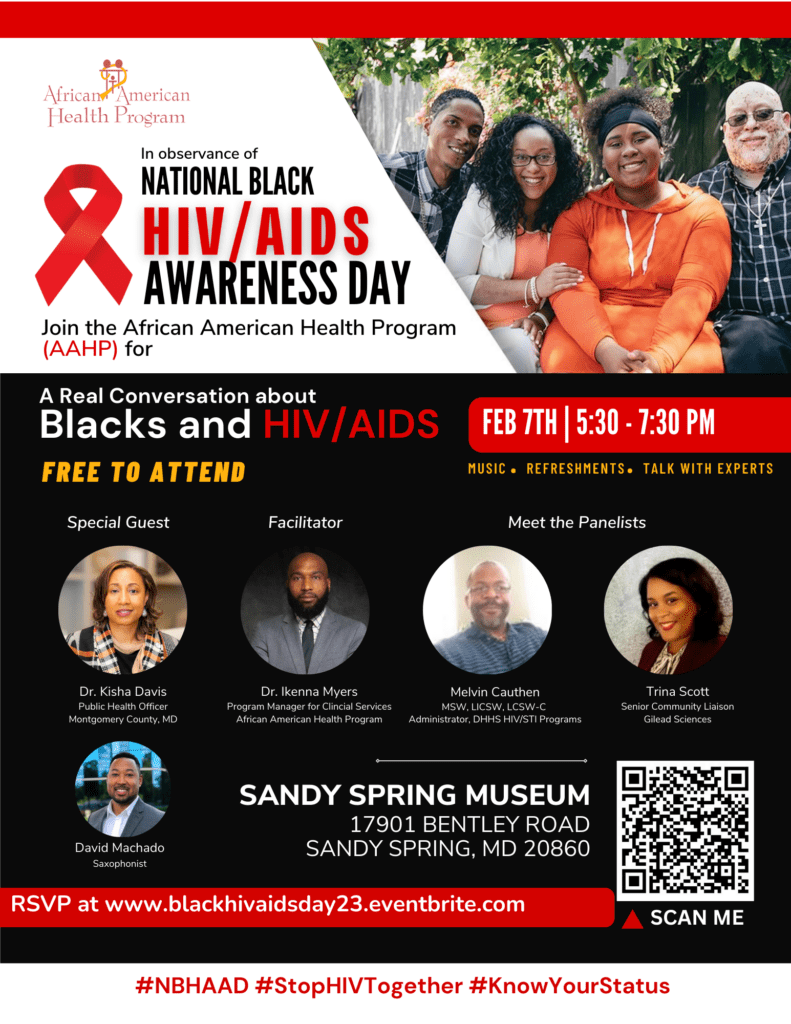 Thousands of families in Montgomery County are eligible to receive thousands of dollars in tax refunds, yet they miss out because they don't file their tax returns. Maryland's Earned Income Tax Credit (EITC) has been expanded and most people who receive it also get back money from Montgomery County's Working Families Income Supplement, even if they file with an ITIN or are single or senior. Thankfully, Community Action's Volunteer Income Tax Assistance (VITA) program offers free income tax preparation to Montgomery County households making up to $60,000 annually. Starting January 23, IRS-certified preparers can help residents find their refund with appointments available at sites in Gaithersburg, Rockville, Silver Spring and Wheaton. Appointments can be made starting January 9 through montgomerycountymd.gov/cashback or by calling 240-777-1123.
Join AAHP for Community Day 2022 on Saturday, May 7 at 8:00am at Montgomery College Germantown. We're celebrating health, wellness, and the vibrant and resilient spirit of our community with a fun-filled day at Montgomery happening in-person for the first time in two years! Free and open to the public, this event will feature:
An AAHP walk to get your energy up
A keynote speaker and panel discussion
Health education sessions
Exercise sessions
Healthy food demonstrations
Games and prizes
Fun for kids
You won't want to miss this epic event. Registration details coming soon! Spread the word!
Montgomery County Public Libraries (MCPL) will begin offering free COVID-19 home testing kits starting Monday, January 10 in an effort to make the test more accessible to County residents. A limited number of iHealth COVID-19 Rapid Antigen Test Kits will be provided on a first come, first served basis until supplies run out. A maximum of two test kits (each containing two tests) will be given per visit.
The iHealth Rapid Antigen test is an at-home test that includes a nasal swab to insert into each nostril to collect mucus, which is then tested to determine if it contains the protein antigen from the virus that causes COVID-19. Results can be accessed within 15 minutes. Self-test kits come with complete instructions.
"Securing these tests, that are currently in great demand, will help our County mitigate community transmission from the Omicron variant surge," said County Executive Marc Elrich. "We are going to make sure these tests will be given out equitably and fairly throughout the community."
Those with no symptoms are advised to take the tests. If you have symptoms of COVID-19, do not go to a library distribution site. Instead, call your health care practitioner or schedule an appointment at one of the numerous community facilities that provide PCR testing.
Every day from 11 am to 2 pm, Monday through Saturday, the following libraries have kits available for check-out:
Library branches distributing kits from 4 to 7 p.m. Monday – Thursday and 2 to 5 p.m. Friday and Saturday are:
As of Monday, January 11, Montgomery County recorded 2,704 new COVID-19 cases. Please stay vigilant!
AAHP observes Men's Health Month every June and invites all Black Montgomery County residents to join us in encouraging African American/Black men and boys to live a safe, healthy lifestyle!

Men of every age need to take the time to focus on their mental and physical well-being. From 19 to 90, even if a man is in "perfect" shape, he should make routine appointments with his healthcare providers to ensure that he is maintaining good health. A Cleveland Clinic survey revealed that 82% of men report trying to stay healthy and live longer for those who rely on them, yet only 50% engage in preventive care. That needs to change. Women can help by reminding male loved ones to keep themselves in good health by making all their appointments with their healthcare providers and to take care of themselves both physically and mentally.

Because Black/African American men have poorer health outcomes than Black/African American women and men of other races/ethnicities, AAHP's Men's Health Initiative places special consideration on engaging Black/African American men. AAHP's Brother 2 Brother conversations engage Black/African American men in discussions about their lives and their health in a non-judgmental environment with the guidance of a healthcare professional. Join the Men's Health Initiative mailing list here.
Sources:
www.newsroom.clevelandclinic.org
Join MedStar Health and organizational partners for a fun and informational virtual forum to learn techniques to protect your heart and brain health by controlling blood pressure, and managing stress, diet and exercise. The event is FREE and open to the public, but you must register here.
Guest Moderator will be Carl Willis, Anchor and Reporter with WJLA-7News. Panelists include:
Dr. Stuart Gould, MD, Cardiologist
Dr. Kyle Reynolds, MD, Vascular Surgeon
The African American Health Program joins Alpha Phi Alpha Fraternity, Inc., Iota Upsilon Lambda Chapter; Olive Branch Community Church in Sandy Spring, MD; and the Olney Boys & Girls Club for this event.