Preeclampsia is a serious pregnancy complication that can cause high blood pressure and kidney dysfunction. The risk factors for preeclampsia include first pregnancy, multiple pregnancy, age 35 and older, family history, obesity, diabetes, high blood pressure, kidney disease, and autoimmune disorders. Studies have shown that US-born Black/African American women are at higher risk of preeclampsia than both White women and Black/African American women who immigrated to the US. Structural racism, combined with biological, cultural, and social factors, may contribute to this disparity.
High blood pressure is a common symptom of preeclampsia and can be an early warning sign of the condition. It is important for pregnant women to monitor their blood pressure regularly to prevent and manage preeclampsia. Women should be aware of the signs and symptoms of preeclampsia and seek timely medical care if they suspect they may have preeclampsia. Women should also maintain a healthy lifestyle during pregnancy by eating a balanced diet, staying active, and avoiding unhealthy habits like smoking.
May is Preeclampsia Awareness Month, and AAHP wants you to know that preeclampsia can be prevented and managed with proper care and attention. For more information about the SMILE (Start More Infants Living Equally healthy) Program, AAHP's services for Black/African American expecting and postpartum moms, please visit AAHP's website here.
Sources:
Get ready for an unforgettable event! The African American Health Program (AAHP) is thrilled to announce AAHP Community Day 2023, happening on Saturday, May 20, 2023, from 9am to 2pm at the Montgomery College, Germantown campus at the Bioscience Center on 20200 Observation Drive in Germantown, MD.
This year's event is packed with exciting activities for all ages! Join us for a walk, run, or bike activity that will kick off at 7:45 am. Afterward, get ready for an interactive discussion with youth, parents, and the community on security, change, and wellness. Participants can also attend workshops, enjoy physical activities such as Zumba and line dancing, and engage with a variety of exhibitors.
We are proud to have the support of our amazing sponsors, including Extra Mile, Venice Mundle-Harvey DBA Allstate Insurance, Montgomery College, MedStar Montgomery Medical Center, and Alpha Kappa Alpha Sorority, Inc., Xi Sigma Omega Chapter.
Don't miss out on this incredible opportunity to come together as a community and celebrate health and wellness. Mark your calendars for AAHP Community Day 2023! Register HERE.
View/download the flyer below and share: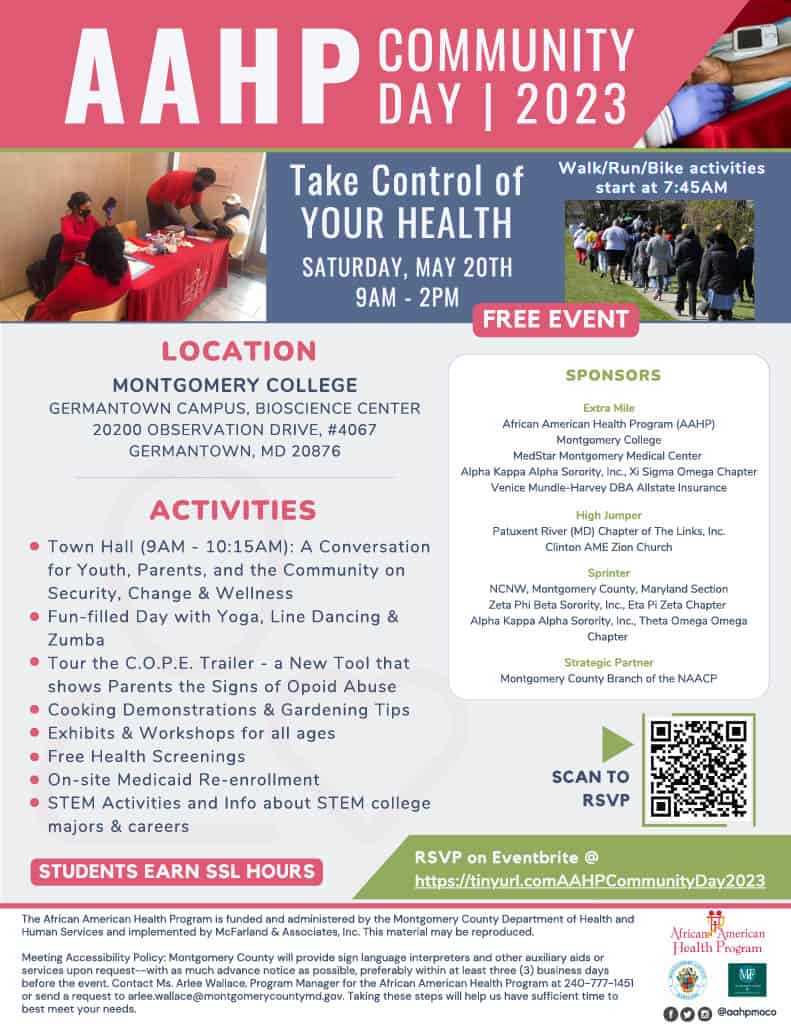 AAHP proudly participated in Black Maternal Health Week (BMHW) from April 11-17 and the Montgomery County Council's proclamation on Tuesday, April 11. The annual campaign, founded and led by the Black Mamas Matter Alliance, aims to raise awareness, activism, and community-building around Black maternal health. This year's theme, "Our Bodies Belong to Us: Restoring Black Autonomy and Joy," highlights the importance of Black women taking control of their bodies and healthcare decisions.
On August 11, during BMHW, Councilmember Laurie-Ann Sayles presented the BMHW proclamation with AAHP's SMILE nurse case manager Christin Statkiewicz in attendance. AAHP greatly appreciates the Council and the County for understanding the importance of Black maternal health and recognizes that this proclamation is only one part of the progress that needs to be made in improving Black maternal health in Montgomery County.
AAHP's S.M.I.L.E. (Start More Infants Living Equally healthy) Program empowers and equips Black mothers with essential tools and unwavering support to promote Black maternal health. Given the alarming statistics that Black women are 3-4 times more likely to die in childbirth, and Black babies are more than twice as likely to die compared to White babies, the S.M.I.L.E. Program plays a vital role in ending health disparities in Montgomery County. AAHP will continue diligently working towards improving the health and well-being of Black mothers and babies in Montgomery County.
View a brief clip highlighting Black Maternal Health Week in Montgomery County. The video showcases Christin Statkiewicz, nurse case manager at the African American Health Program, and includes footage from the Montgomery County Council's 2023 BMHW Proclamation.
April is National Minority Health Month (NMHM), a time to raise awareness about health disparities in minority communities. NMHM holds a special place in AAHP's heart because it aligns with our mission to bring an end to health disparities. We are proud of our work to build a future where Black/African American County residents are as healthy and as safe as the rest of the population.
The Department of Health and Human Services has given this year's NMHM the theme "Better Health Through Better Understanding." Helping clients understand their health is a significant part of AAHP's work. When clients understand their health, they are empowered to make better decisions in their daily lives. For example, if you understand the link between unhealthy foods and chronic disease, you are more likely to avoid unhealthy foods to protect your health.
Celebrate NMHM by telling other Black/African American County residents about AAHP's programs and services. Spread the word to your friends, family, and neighbors about AAHP's health education classes, support services for pregnant and postpartum moms and their infants, health screenings, and more. Check out AAHP's calendar of events here.
Whether you're looking to lose weight or just enjoy a balanced diet, National Nutrition Month is the perfect opportunity to take steps towards making smarter food choices.
Good nutrition helps to prevent and manage a wide range of diseases and conditions, such as obesity, diabetes, cardiovascular disease, stroke, cancer, and even mental health conditions. Good nutrition is vital for supporting the immune system and helps us prevent and recover from colds, the flu, and other infections. It can also improve our moods, energy levels, muscle strength and physical endurance. No matter your age, nourish your body with a healthy diet for optimal health and wellbeing.
Check out these tips to help you establish lasting habits that can lead to better health:
Plan ahead. By planning and prepping your meals ahead of time, you can control portion sizes and have healthy food to eat on-the-go.
Snack smart. Instead of giving in to cravings for unhealthy snacks like potato chips or packaged sweets, choose nutritious snack options like fresh fruit, trail mix, or air-popped popcorn.
Eat your colors. Aim for colorful variety of foods when planning meals. Eating a rainbow of fruits and vegetables is the best way to ensure you get the vitamins, minerals, and nutrients your body needs.
AAHP was excited to host a SOLD OUT event for National Black HIV/AIDS Awareness Day at the Sandy Spring Museum on Tuesday, February 7, 2023! This event brought together more than 50 attendees who were thrilled to take part in the thought-provoking discussions with health experts on self-care and prevention, self-advocacy, dispelling myths about who is at risk, and removing barriers to testing.
The event kicked off with a delightful welcome from David Machado, saxophonist extraordinaire, before leading into a heartfelt conversation facilitated by Dr. Nkossi Dambita, Director of Clinical Services at AAHP. The evening was made extra special by distinguished guests Dr. Kisha Davis (Montgomery County Health Officer), Dawn Luedtke (District 7 Councilmember), Dr. James Bridgers (Montgomery County Chief of Public Health Services) and Jade-Ann Rennie from Montgomery County Collaboration Council; and panelists Melvin Cauthen (Administrator from DHHS HIV/STI Programs) and Trina Scott (Senior Community Liaison from Gilead Sciences).
We thank our partner organizations African Affairs Advisory Group, African-American Advisory Group, Caribbean American Advisory Group, Montgomery County Collaboration Council, NAACP Montgomery County Branch, Patuxent River MD Chapter of The Links Incorporated and Silver Spring MD Chapter of The Links, Incorporated for their generous support in making this amazing event possible.
AAHP would like to express its sincere gratitude to the Montgomery County Collaboration Council for their generous sponsorship, to the Sandy Spring Museum for its hospitality, and to the Montgomery County School Safety Unit for providing a Traffic Safety Detail.
One in three teens in the U.S. are victims of abuse from someone they're in a relationship with, according to love is respect,  a project of the National Domestic Violence Hotline. Parents, guardians, teachers and other adults have an essential role in creating a space of trust for teens. We should be knowledgeable on the signs of teen domestic violence and be prepared to provide support when needed. We should educate our youth on healthy relationships and equip them with communication and conflict resolution skills. It's also critical that we set a good example of healthy relationships with our own relationships. 
AAHP proudly joins love is respect to promote their Teen Dating Violence Awareness Month campaign, "Be About It." Follow AAHP on social media (@aahpmoco on Facebook, Twitter, and Instagram) and share our posts to spread awareness of teen dating violence and help our youth thrive in every aspect of their lives.
Source: www.loveisrespect.org
Ready to get real about HIV/AIDS in our community? Join AAHP on Tuesday, February 7 for a special event in observance of National Black HIV/AIDS Awareness Day. This unique event will take place at the Sandy Spring Museum from 5:30-7:30 and will feature open discussions with experts, healthcare workers, and people whose lives have been impacted by HIV/AIDS. We are excited to have Dr. Kisha Davis, the newly appointed Public Health Officer for Montgomery County, as our special guest. Join the discussion with experts, Melvin Cauthen, Administrator for HIV/STI Programs for the Department of Health & Human Services, and Trina Scott, Senior Community Liaison with Gilead Sciences. This informative and engaging event will be facilitated by Dr. Ikenna Myers, Program Manager for Clinical Services, African American Health Program. Enjoy smooth jazz played by saxophonist, David Machado. Light refreshments will also be served.

HIV testing will also be available. Space is filling up fast so RSVP today!
Our partners
African Affairs Advisory Group, African-American Advisory Group, Caribbean American Advisory Group, Montgomery County Collaboration Council, NAACP, Montgomery County Branch, Patuxent River (MD) Chapter of The Links, Incorporated, and Silver Spring (MD) Chapter of The Links, Incorporated
RSVP here.
Share this flyer!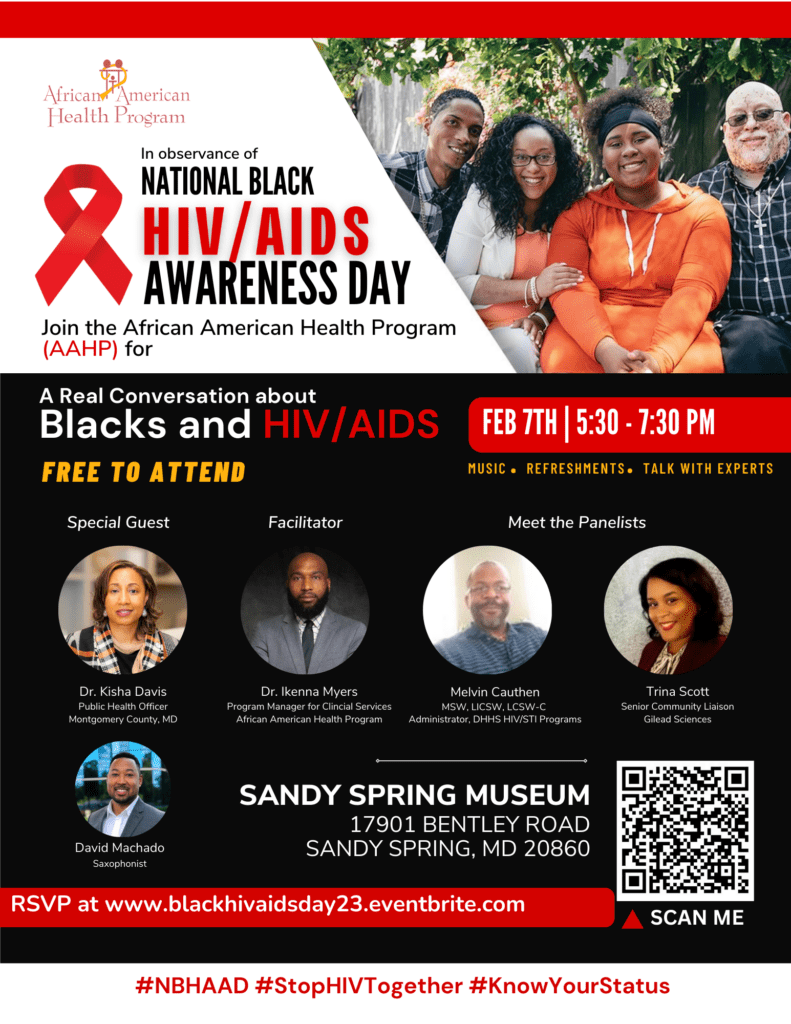 Thousands of families in Montgomery County are eligible to receive thousands of dollars in tax refunds, yet they miss out because they don't file their tax returns. Maryland's Earned Income Tax Credit (EITC) has been expanded and most people who receive it also get back money from Montgomery County's Working Families Income Supplement, even if they file with an ITIN or are single or senior. Thankfully, Community Action's Volunteer Income Tax Assistance (VITA) program offers free income tax preparation to Montgomery County households making up to $60,000 annually. Starting January 23, IRS-certified preparers can help residents find their refund with appointments available at sites in Gaithersburg, Rockville, Silver Spring and Wheaton. Appointments can be made starting January 9 through montgomerycountymd.gov/cashback or by calling 240-777-1123.
It's that time of year again—New Year's resolutions are being made and many people are deciding to focus on health and fitness in 2023. Exercise is one of the best investments you can make for your overall wellbeing, with numerous studies in recent years showing its physical and mental health benefits. Now there's even more incentive to get active: Montgomery County residents will have free access to fully equipped fitness rooms, open gym (drop-in) activities, and game rooms at any community recreation center from January 3rd onwards. Get your pass here.
Exercise helps improve physical health through strength building, improved flexibility, and reduced risk of chronic diseases. It also benefits mental and emotional wellbeing by reducing stress levels, promoting better sleep quality, improving mood and self esteem, as well as aiding concentration levels. And now with Montgomery County Recreation Center membership passes being free for all locals in 2023, there really is no excuse not to set exercise as part of your New Year goals!