Black/African American youth suicide rates have been on the rise over the past decade, according to a report by the Pew Charitable Trusts. The report found that suicide rates among Black/African American youth aged 10-19 increased by 60% between 2007 and 2018, compared to a 44% increase among all youth in the same age group.
Several complex factors contribute to this disturbing increase in youth suicide rates among Black/African Americans adolescents. These factors include socioeconomic disparities, limited access to mental health services, systemic racism, and the challenges of growing up in today's digital age. Black/African American youth also deal with unique stressors that can make them more vulnerable to mental health challenges and suicidal thoughts.
It is crucial that we do all we can to provide support and resources to Black/African American youth to prevent further tragedies. Parents, teachers, and caregivers should recognize the warning signs of depression and suicidal ideation in young people and help them get professional mental health support. We can all work to promote mental health awareness and education and breaking the stigma surrounding mental health in the Black/African American community.
Source: www.pewtrusts.org
August is Breastfeeding Awareness Month, a time to celebrate all the wonderful benefits of breastfeeding and promote and encourage breastfeeding for more and more Black/African American moms!
Breastfeeding protects the health of both moms and babies. Breast milk contains powerful antibodies that strengthen the baby's developing immune system and lower the risk for many illnesses and infections including ear, respiratory, and digestive tract infections; asthma; obesity; diabetes; and even Sudden Infant Death Syndrome (SIDS). For moms, breastfeeding has been shown to reduce the risk of breast and ovarian cancer, promote faster postpartum recovery, and more. Breastfeeding also nurtures the bond between mom and baby, promoting emotional well-being and mental health. Breastfeeding is a natural way for moms to support their own health while providing essential nourishment for their babies.
This Breastfeeding Awareness Month and Black Breastfeeding Week (August 25-31), AAHP honors the SMILE team for their work in supporting breastfeeding for Black/African American moms in Montgomery County. The SMILE program offers childbirth and breastfeeding classes, nurse case management for pregnant and postpartum moms, and the Mommy Chat and Breastfeeding Support Circle online groups to help Black moms on their breastfeeding journey.
Learn more on AAHP's website here.
This month, take the time to learn more about breastfeeding and what you can do to support yourself or someone who breastfeeds or may breastfeed by:
Following the hashtags #BBW23 #WeOutside #blackbreastfeedingweek on social media
Following AAHP's SMILE Program's Instagram @aahp_s.m.i.l.e
Checking out the SMILE team's video on breastfeeding: https://youtu.be/nzPOSbhc9k4
Sources:
www.blackbreastfeedingweek.org
Each July, AAHP observes National Minority Mental Health Awareness Month to recognize and address mental health concerns facing Blacks/African Americans. It's important to know that movement and exercise can benefit mental health. Activities such as jogging, swimming, cycling, walking, gardening, and dancing have been shown to reduce anxiety and depression by providing distractions from negative thoughts and by triggering the release of endorphins, those wonderful "feel-good" brain chemicals. Just 30 minutes of moderate-intensity exercise (like brisk walking) three times a week can make a significant positive impact on an individual's mental health.
If you're looking for a calming way to lift your mood, give meditative movement a try. Practices like qigong, tai chi, and yoga can help ease depressive symptoms by helping you focus on how your body feels, where it is in space, and your intuitive feelings while you move. To get started, you can join AAHP's yoga classes on Wednesday mornings at 10am.
Learn more about Blacks/African Americans and mental health by reading the "Minority Voices 2022: Our Mental Health Journey" report authored by AAHP, the Latino Health Initiative and the Asian American Health Initiative.
Sources:
---
Summer is here, and it's time to soak up the sun and have some fun! Whether you're hiking, swimming, or just lounging in the backyard, there's no better season to enjoy the great outdoors. Stay safe and take care of yourself and your loved ones by being mindful of safety precautions and following health recommendations.
Staying hydrated is crucial during hot summer days to prevent dehydration. Drink plenty of water throughout the day, especially when engaging in outdoor activities. Protect your skin from sun damage by using sunscreen with a minimum SPF of 15, wearing protective clothing, and seeking shade during peak sunlight hours.
Swimming is a popular summer activity, but it's critical to practice water safety to prevent accidents and drowning. Adults and children alike should learn how to swim and avoid swimming alone. Children should always be supervised in and around bodies of water.
Grilling is a common summer activity, but it's best to practice safe grilling techniques to reduce the risk of cancer. Cooking meat over an open flame releases cancer-causing chemicals, so consider pre-cooking meats in the oven or microwave before grilling to reduce grilling time and the amount of harmful chemicals released. Marinating meat in vinegar, citrus juice, or other acidic liquids can also prevent the formation of cancer-causing compounds. Try grilling fruits and vegetables for a healthier option.
Have a happy and healthy summer!
Sources:
June is Men's Health Month, a time dedicated to raising awareness about the unique health challenges faced by men. Given that men generally have a shorter lifespan than women and considering that Black/African American men tend to live the shortest and unhealthiest lives compared to all other demographics, it is especially important for Black/African American men to prioritize their health and wellness. Did you know these three facts about men's health?
Eating a healthy diet can help men prevent prostate cancer. Eating a diet rich in fruits, vegetables, and whole grains can improve prostate health in men. In particular, cruciferous vegetables like broccoli and cauliflower, as well as foods containing lycopene like tomatoes, have been found to have protective effects on the prostate. Reducing intake of red meat and dairy products may also help to improve prostate health.
Regular doctor visits and timely medical care can improve men's health outcomes. Men, particularly Black/African American men, often avoid regular checkups and seeking medical attention due to societal pressure to be tough and self-sufficient. This can lead to dismissing symptoms and delaying medical attention until their condition worsens. Men also avoid professional care for mental health concerns, contributing to a suicide rate four times higher than that of women. This pattern of avoidance can have serious consequences, as preventive care and early detection can improve health outcomes and even save lives.
Positive social relationships can enhance men's health. Strong relationships are vital for men's health. Research shows that having solid social connections lowers anxiety and depression, boosts self-esteem and empathy, and strengthens the immune system. On the flip side, lacking social support can have a more detrimental impact on men's health than obesity and smoking. According to Harvard Medical School, marriage also brings significant health advantages for men, including lower rates of heart disease and stroke, better mental health, and increased longevity compared to unmarried men.
Preeclampsia is a serious pregnancy complication that can cause high blood pressure and kidney dysfunction. The risk factors for preeclampsia include first pregnancy, multiple pregnancy, age 35 and older, family history, obesity, diabetes, high blood pressure, kidney disease, and autoimmune disorders. Studies have shown that US-born Black/African American women are at higher risk of preeclampsia than both White women and Black/African American women who immigrated to the US. Structural racism, combined with biological, cultural, and social factors, may contribute to this disparity.
High blood pressure is a common symptom of preeclampsia and can be an early warning sign of the condition. It is important for pregnant women to monitor their blood pressure regularly to prevent and manage preeclampsia. Women should be aware of the signs and symptoms of preeclampsia and seek timely medical care if they suspect they may have preeclampsia. Women should also maintain a healthy lifestyle during pregnancy by eating a balanced diet, staying active, and avoiding unhealthy habits like smoking.
May is Preeclampsia Awareness Month, and AAHP wants you to know that preeclampsia can be prevented and managed with proper care and attention. For more information about the SMILE (Start More Infants Living Equally healthy) Program, AAHP's services for Black/African American expecting and postpartum moms, please visit AAHP's website here.
Sources:
Get ready for an unforgettable event! The African American Health Program (AAHP) is thrilled to announce AAHP Community Day 2023, happening on Saturday, May 20, 2023, from 9am to 2pm at the Montgomery College, Germantown campus at the Bioscience Center on 20200 Observation Drive in Germantown, MD.
This year's event is packed with exciting activities for all ages! Join us for a walk, run, or bike activity that will kick off at 7:45 am. Afterward, get ready for an interactive discussion with youth, parents, and the community on security, change, and wellness. Participants can also attend workshops, enjoy physical activities such as Zumba and line dancing, and engage with a variety of exhibitors.
We are proud to have the support of our amazing sponsors, including Extra Mile, Venice Mundle-Harvey DBA Allstate Insurance, Montgomery College, MedStar Montgomery Medical Center, and Alpha Kappa Alpha Sorority, Inc., Xi Sigma Omega Chapter.
Don't miss out on this incredible opportunity to come together as a community and celebrate health and wellness. Mark your calendars for AAHP Community Day 2023! Register HERE.
View/download the flyer below and share: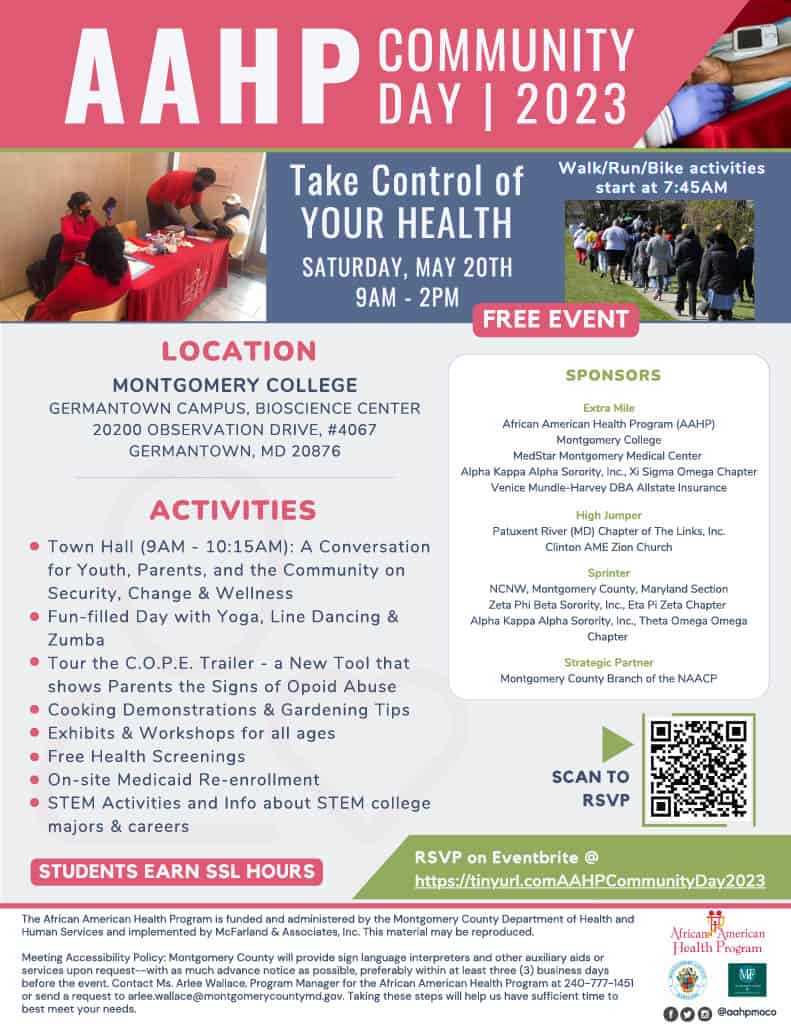 AAHP proudly participated in Black Maternal Health Week (BMHW) from April 11-17 and the Montgomery County Council's proclamation on Tuesday, April 11. The annual campaign, founded and led by the Black Mamas Matter Alliance, aims to raise awareness, activism, and community-building around Black maternal health. This year's theme, "Our Bodies Belong to Us: Restoring Black Autonomy and Joy," highlights the importance of Black women taking control of their bodies and healthcare decisions.
On August 11, during BMHW, Councilmember Laurie-Ann Sayles presented the BMHW proclamation with AAHP's SMILE nurse case manager Christin Statkiewicz in attendance. AAHP greatly appreciates the Council and the County for understanding the importance of Black maternal health and recognizes that this proclamation is only one part of the progress that needs to be made in improving Black maternal health in Montgomery County.
AAHP's S.M.I.L.E. (Start More Infants Living Equally healthy) Program empowers and equips Black mothers with essential tools and unwavering support to promote Black maternal health. Given the alarming statistics that Black women are 3-4 times more likely to die in childbirth, and Black babies are more than twice as likely to die compared to White babies, the S.M.I.L.E. Program plays a vital role in ending health disparities in Montgomery County. AAHP will continue diligently working towards improving the health and well-being of Black mothers and babies in Montgomery County.
View a brief clip highlighting Black Maternal Health Week in Montgomery County. The video showcases Christin Statkiewicz, nurse case manager at the African American Health Program, and includes footage from the Montgomery County Council's 2023 BMHW Proclamation.
April is National Minority Health Month (NMHM), a time to raise awareness about health disparities in minority communities. NMHM holds a special place in AAHP's heart because it aligns with our mission to bring an end to health disparities. We are proud of our work to build a future where Black/African American County residents are as healthy and as safe as the rest of the population.
The Department of Health and Human Services has given this year's NMHM the theme "Better Health Through Better Understanding." Helping clients understand their health is a significant part of AAHP's work. When clients understand their health, they are empowered to make better decisions in their daily lives. For example, if you understand the link between unhealthy foods and chronic disease, you are more likely to avoid unhealthy foods to protect your health.
Celebrate NMHM by telling other Black/African American County residents about AAHP's programs and services. Spread the word to your friends, family, and neighbors about AAHP's health education classes, support services for pregnant and postpartum moms and their infants, health screenings, and more. Check out AAHP's calendar of events here.
Whether you're looking to lose weight or just enjoy a balanced diet, National Nutrition Month is the perfect opportunity to take steps towards making smarter food choices.
Good nutrition helps to prevent and manage a wide range of diseases and conditions, such as obesity, diabetes, cardiovascular disease, stroke, cancer, and even mental health conditions. Good nutrition is vital for supporting the immune system and helps us prevent and recover from colds, the flu, and other infections. It can also improve our moods, energy levels, muscle strength and physical endurance. No matter your age, nourish your body with a healthy diet for optimal health and wellbeing.
Check out these tips to help you establish lasting habits that can lead to better health:
Plan ahead. By planning and prepping your meals ahead of time, you can control portion sizes and have healthy food to eat on-the-go.
Snack smart. Instead of giving in to cravings for unhealthy snacks like potato chips or packaged sweets, choose nutritious snack options like fresh fruit, trail mix, or air-popped popcorn.
Eat your colors. Aim for colorful variety of foods when planning meals. Eating a rainbow of fruits and vegetables is the best way to ensure you get the vitamins, minerals, and nutrients your body needs.